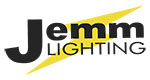 LED Pole Mount Area Light 3,834 Lumens - The Jemm Amber LED A25COB luminaire with a wide choice of mounting configurations and optical distributions designed to replace HID lighting systems from 250w to 400w HID. Typical area lighting applications include retail centers, industrial parks, schools and universities, public transit and airports, office buildings and medical facilities. Mounting heights of 14 to 25 feet can be used based on light level and uniformity requirements.
Housing: Die Cast Aluminum Housing and Front Frame, Integral Heat Sinking and Driver
Compartment. Photocell Adaptable. Nickel-Plated Stainless Steel Hardware.
Finish: Textured Architectural Bronze Powdercoat Finish Over a Chromate Conversion Coating. Custom Colors Available Upon Request.
Lens: Tempered Clear Flat Glass Lens
Mounting: Pole Mounting Arm Adapter
13-3/8" W X 15" L X 3-5/8" H
Wattage: 112w: Array: 112w, System: 119.3w (250-400w HID Equivalent.)
Driver: Electronic Driver, 120-277V, 50/60Hz or 347/480V, 50/60Hz; Dimmable Driver.
Listing & Ratings: CSA: Listed for Wet Locations.
Operating Temperatures: -40°C to +50°C
IP67 Sealed LED Compartment.