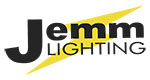 Jemm Lighting W90F84-EM 84 Watt Fluorescent 15" Round Eye Lid Cutoff Wall Pack. Suitable for entry ways, parking areas, perimeter security and area lighting.

When the power goes out 1 of the 42 watt lamps will light for 90 min. When power is restored both lamps light and it will go into charge mode.

.
Die cast aluminum housing and door frame, with chip and fade resistant long lasting polyester powder coat.
The lens is molded from a thermal shock resistant borosilicate glass.
Silicone housing gasket seals out moisture and provides years of moisture protection.
Thermoplastic plug in type socket, GX24q-4 base.
Lamps are included.
High Power Factor (HPF) Electronic ballast.
Corrosion resistant stainless steel external hardware.
Lamp: 2 - 42 Watt Triple GX24q-4 Base Compact Fluorescent (included).